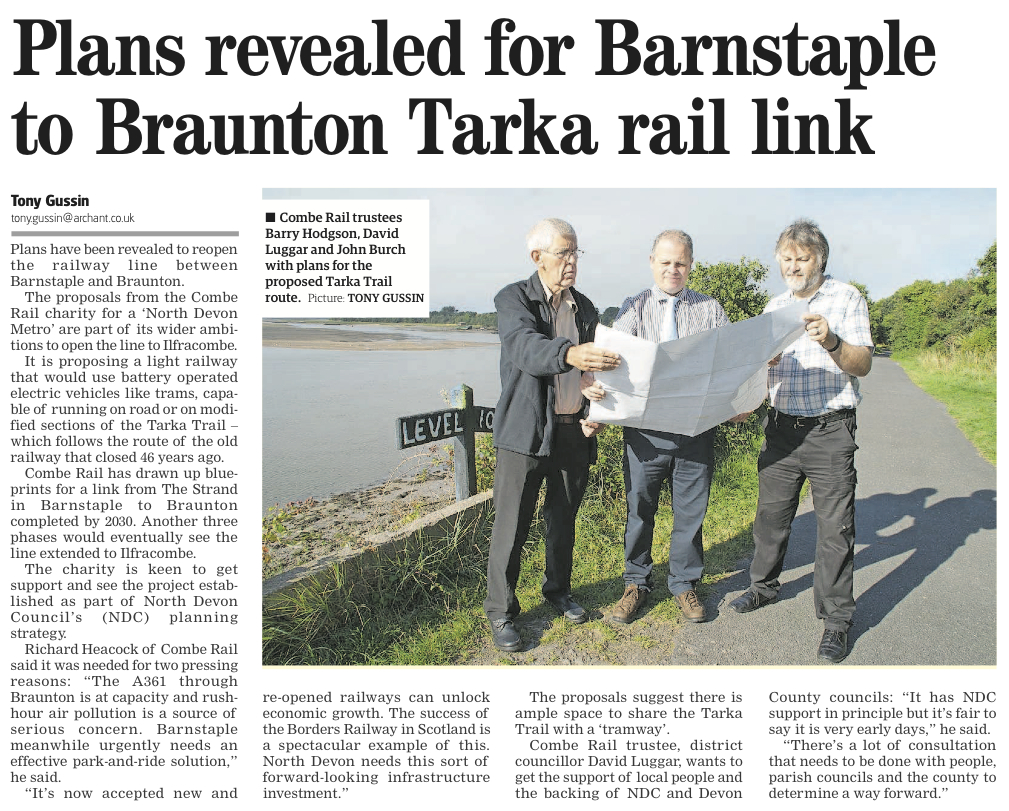 Bid to set up Ilfracombe heritage railway
A D812 train at Ilfracombe in August, 1968, two years before the line closed. Picture: Bernard Mills
People are being urged to join a charity's bid to reinstate the Ilfracombe railway. The Combe Rail group now has registered charity status and is accepting membership subscriptions. The group wants to set up a community and heritage railway on the track bed of the former Barnstaple-Ilfracombe railway.
The Ilfracombe branch line closed in 1970, but the charity believes getting it back would be a great boost for local tourism. The line, which is now part of the Tarka Trail, opened in 1874 and in its heyday brought thousands of tourists to Ilfracombe. Richard Heacock, from the charity, said people joining the group would show the authorities and funding bodies that the project enjoyed popular local support.
"Members will be entitled to attend and vote at the AGM, and funds are initially required for scoping and environmental studies and planning applications," he said. "North Devon is currently witnessing something of a heritage railway revival, with similar schemes already in operation at Torrington, Bideford and Instow – and the Lynton and Barnstaple Railway is set to extend its line substantially in the next few years. That's got to be good for the area."
Anyone who wishes to support the project or get involved can go to www.combe-rail.org.uk/membership
Ilfracombe railway link with Barnstaple could return thanks to Combe Rail project
ILFRACOMBE could see a return of a section of its railway link with Barnstaple as part of a community group's ambitious project. Combe Rail was founded last month in a bid to try and establish a heritage railway on a section of the former line between the two towns. Although large parts of the route have been subject to development following its closure in 1970, the group said it would focus on establishing the railway on a four-mile stretch between Willingcott and Knowle.
The project was first put forward during a discussion in a Facebook group dedicated to the history of the line. Combe Rail chairman Richard Heacock said: "More and more people kept saying this would be a brilliant railway to reopen. After a while I just thought why don't we give it a go? "I got in touch with the people who seemed to be most keen and said shall we get a group together and see what's possible?"
The group first met on March 22 where it agreed to apply for charity status to help push forward with the project and has received support from several local businesses, In addition to bringing tourists to the area, Richard said that the line would also act as an educational resource for people interested in the history of the railway. He added: "I think the railway would be another great reason for people to come to North Devon. "It will be bringing money back into the area. Railways bring a lot of railway enthusiasts throughout the year."
Although the project has been questioned by some residents, Richard said the group simply wanted to work with landowners to help make the project a reality."There's lots of bits of the line which aren't accessible to us, and we know that," he said. "At the moment we are just going to see what's possible and really want to stress that we want to work with people. "Combe Rail don't want to encroach on anybody's private property or business interest. We just want to establish a heritage railway."
Read more:http://www.northdevonjournal.co.uk/Ilfracombe-railway-link-Barnstaple-return-thanks/story-26281013-detail/story.html#ixzz3Xa1dsJfi
Follow us: @NDJournal on Twitter | NDJournal on Facebook